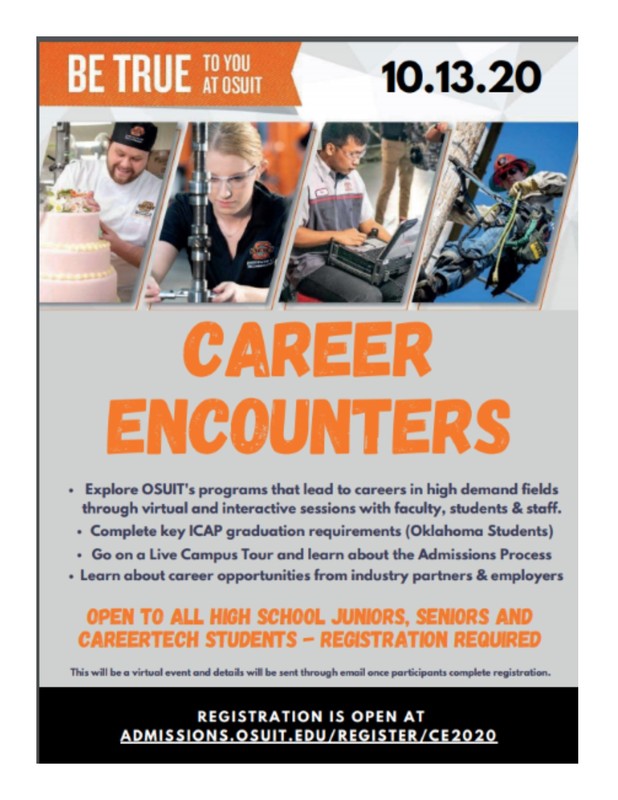 OSU Institute of Technology
OSU Institute of Technology is hosting our annual Career Encounters event on Tuesday, October 13th and this year the event will be going virtual. We hope that you and your students are able to join us this year! Although the format will be different, we will still be offering PROGRAM TOURS, DEMONSTRATIONS, INFORMATION SESSIONS, LIVE Q&A's, PRESENTATIONS, CAMPUS TOURS and more!
Don't worry! It won't be via Zoom!
We are using an online platform called Accelevents. All of the content, whether live or playback will be streamed in one place. Participants can view the event on a desktop computer, tablet, Chromebook, iPad, cell phone or any device that has internet streaming capabilities. Students get to decide which sessions they will view and can jump around and view as many sessions as they want.
The event will be open Oct. 13th from 9:00 am - 4:00 pm.
Pre-Registration is required for this event. All event details (log-in, navigation, etc.) will be sent to the students that are registered via email before the event date. Please encourage all of your students to register. This is a free event that they can view at their leisure on the event day.
Registration can be found at: admissions.osuit.edu/register/CE2020