COVID-19 PREPAREDNESS AND RESPONSE
In our efforts to keep our students, staff and families informed with the latest information on COVID-19 or Coronavirus, please use this page as a reference for District communications regarding COVID-19 and other helpful resources.
If you have business that requires you to come in, please call first to make arrangements.
Newkirk Public Schools will do their best to help flatten the curve in regards to the situation.
Fall Outdoor Athletics Event Protocol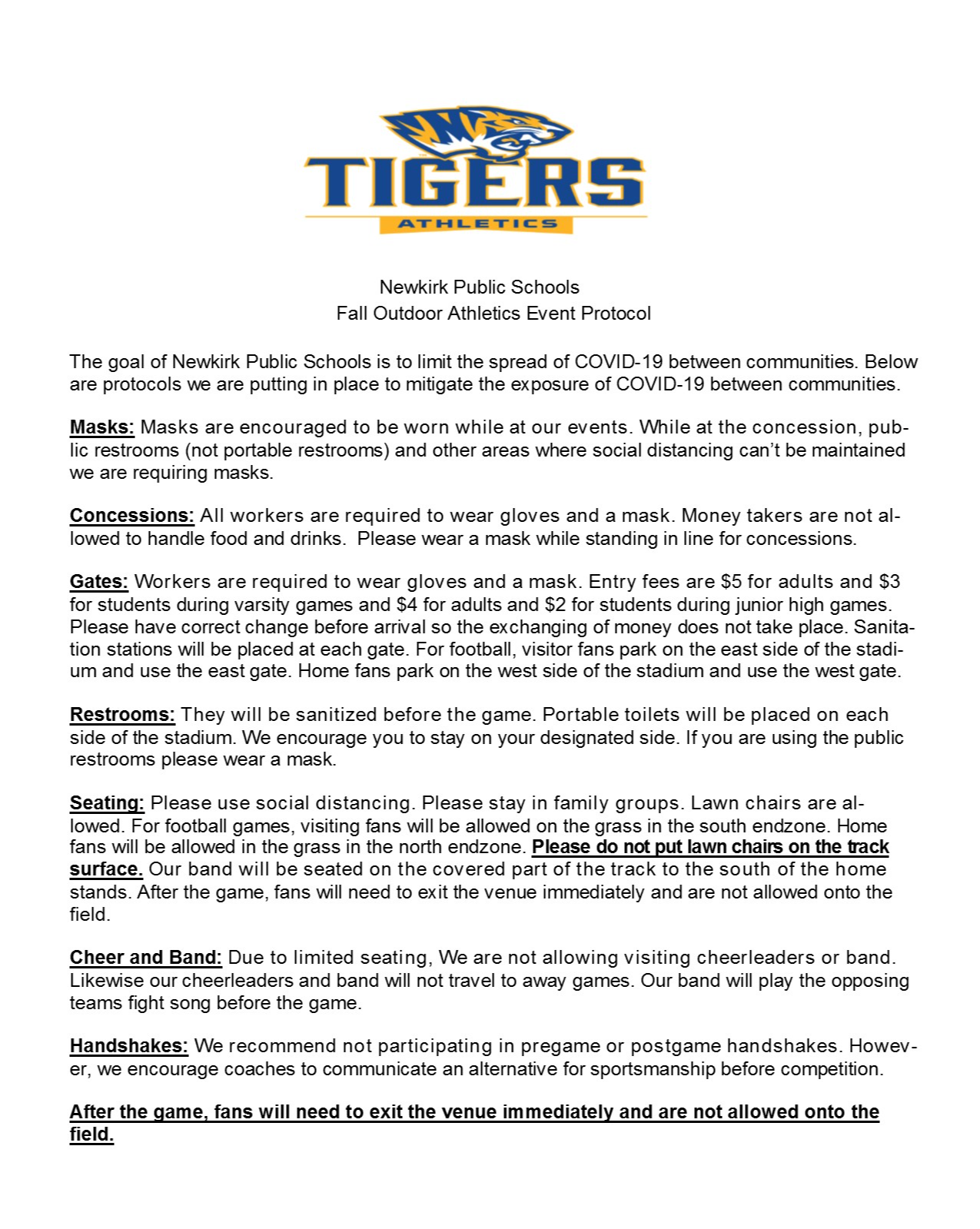 The Newkirk Board of Education approved the attached Return to Learn Plan for Newkirk Public Schools. If you decide that the virtual option might be best for you or if you have general questions please call (580)362-2388. We are excited and looking forward to a great school year at NPS! Please click the link below to review our Return to Learn Plan:
Tomorrow (8/13) is the first day of school for Newkirk Public Schools. Parents, before you send your child(ren) to the bus or drop them off at school please complete the "Daily COVID-19 School Attendance Questionnaire". It will be essential for us that parents screen their child(ren)'s health before they come to school. Thank you for your help as we prepare for another great year at Newkirk Public Schools.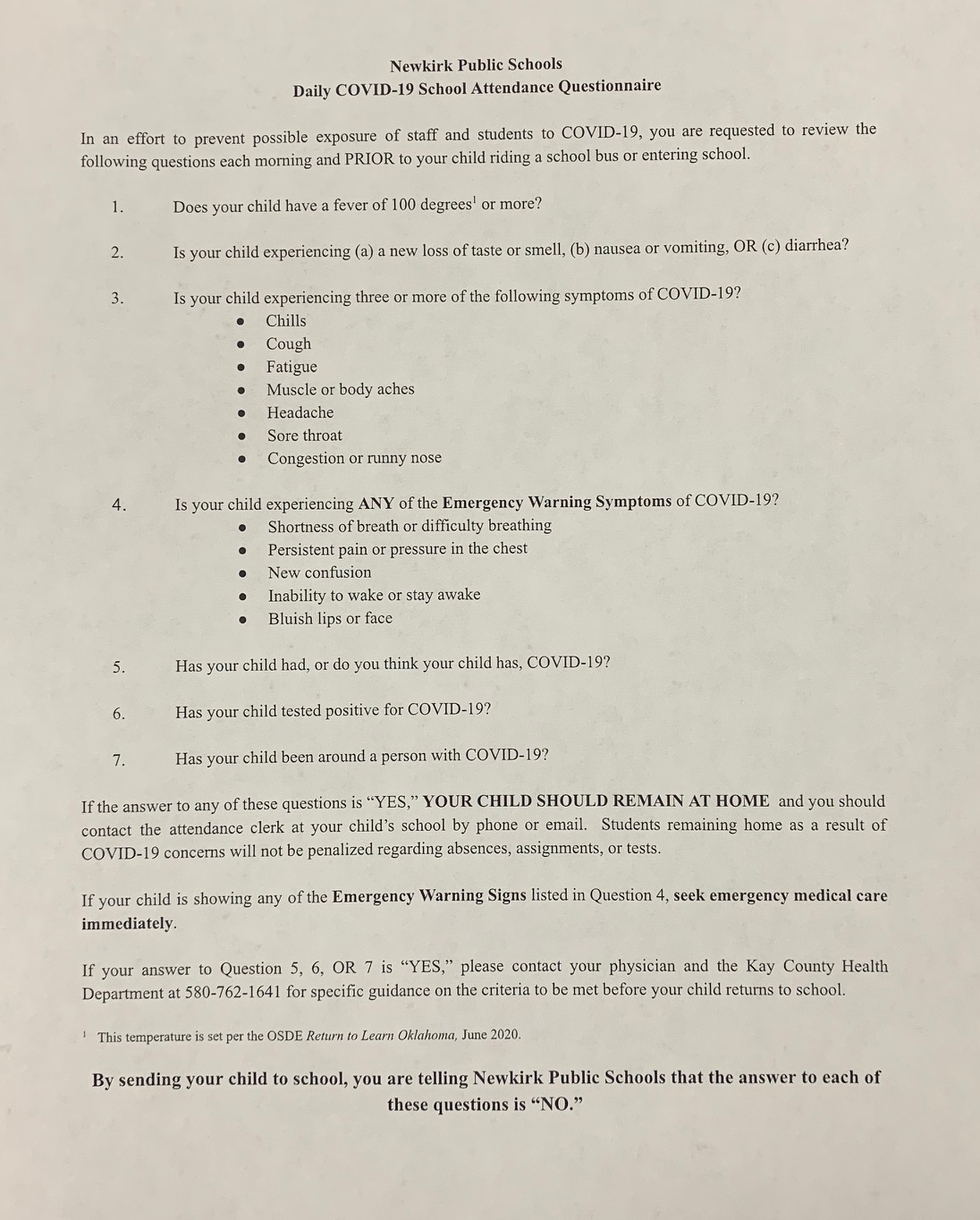 | | |
| --- | --- |
| How do I get the Google classroom from the highschool? | Each student will access google classroom through their email |
| | |
| --- | --- |
| My 8th grader needs to take a reading test to get her drivers permit | The State Board of Education, at its March 25 meeting, adopted an emergency rule to allow the state to provide a medical exemption for this requirement. All eighth-graders in the 2019-20 school year will receive this exemption. After communicating with the Oklahoma Department of Public Safety (DPS), it is the OSDE's understanding that this exemption will satisfy the requirements. Students wishing to take the driver exam should also be aware that DPS has instituted the following restrictions: • All driving skills tests have been canceled; • Only 10 customers are allowed in an office at one time; and • Every customer must have an appointment. |
APRIL 1ST, 2020
Update on Meal pick- ups and delivery times:
Starting April 6th we will provide meals Monday, Wednesday and Thursday 9:00am-11:00am.
We are still providing enough meals for the entire week. Monday you will receive meals for Monday and Tuesday, Wednesday meals for Wednesday, Thursday you will receive meals for Thursday and Friday.
This new schedule will allow us to provide some hot meals along with reducing person to person contact, keeping student and employee's safe in this unprecedented time.
Please read the Food Safety, Storage and Reheat instructions on storing food. IT IS POSTED ON THE NEWS TAB
MARCH 25, 2020
Newkirk Public School Families,
Today, we learned that Oklahoma students will not return to the classroom for the remainder of the current school year, following a vote by the state Board of Education. Instead, districts, including Newkirk, will implement remote learning plans that will allow students to complete the school year at home. State education and health officials believe this move will help our state fight the spread of COVID-19.
Newkirk administration and teachers are working on that plan. In the next few days, we will be finalizing those plans and sharing with families. Here is what we know currently.
We will begin remote learning on April 6th, 2020 and go to at least May 8th, 2020.
We are putting together our survey results in regards to technology capabilities of families in our district.
We are using that data from the technology survey and we are currently thinking of ways outside the box to get WiFi capabilities to our students who do not have access.
High school and middle school students that do not have a device to use will be able to check one out at the school. Stay tuned for more information.
There are many other questions we are working on to help get that information out to parents. There are textbooks that will need to be returned, athletic gear returned, student personal items in lockers, library books, graduation updates, and many others. We have a COVID-19 section on our school webpage. We will take your questions that you submit to us and put answers on that portion of the webpage.
MARCH 23RD, 2020
Dear Newkirk family:
Today, state officials announced they will recommend to the state Board of Education that Oklahoma students not return to the classroom for the remainder of the current school year, as our state continues to fight the spread of COVID-19. They will instead recommend a continuous learning plan that will allow students to complete the school year at home. It is important to note that this decision is not final until the state Board of Education meets on Wednesday and votes to approve the recommendation.
We are sharing this information with you in advance, however, so that you can begin to prepare accordingly for your family. We understand this recommendation is in the best interest of everyone's health, which is our greatest priority as a district. If approved, this also means that all extracurricular activities and special events will be canceled as well. Making these difficult decisions, we believe, is simply the right thing to do for our students, our staff and our community.
We do have good news: Newkirk Public School is developing a plan to ensure your child will continue to have opportunities to learn and to grow academically, especially with parental support. Because we are unable to safely gather together, these lessons and activities will primarily be delivered and communicated in ways to be determined. As you can imagine, this is a significant transition for our students and our teachers. Newkirk Public School will spend the next two weeks planning for this effort and will share details with your family as soon as they are available. Teachers and support staff members will hear from their principals soon as they gather input regarding the next phase of the school closure.
For students, it likely will be sad and disappointing to learn that school as they know it will not resume this year. Please give them a safe place to express their feelings and to vent about the changes in their life.
For our seniors and their parents, we know it is an especially difficult time. We will do everything possible to ensure their efforts are recognized and celebrated in special and unique ways. This is an unfair situation, but please reassure them that it does not diminish their achievements. In fact, it will become one more example of how they demonstrated their strength as a Tiger.
We have posted numerous resources on our website, including information about free breakfasts and lunches for students under the age of 18, which will continue, as well as answers to frequently asked questions regarding the school closure. You can find these details and more by visiting www.newkirk.k12.ok.us. The site also includes recommendations from the CDC about protecting your health and the health of your loved ones. We ask you to please follow their advice by: (1) washing your hands regularly; (2) staying at home, if you can; and (3) practicing social distancing of at least six feet from others.
is an unprecedented situation, and it has required an unprecedented response. We can still take care of Newkirk and Braman students, though. These are communities that stick together in challenging times, and we know this experience will be no different. As soon as we identify our next steps, we will share them with you.
Please stay safe. As always, we appreciate your support of Newkirk Public Schools.
Sincerely,
Brady Barnes
Superintendent
MARCH 19TH, 2020,
Newkirk Families, Staff, and Community,
Newkirk Public Schools will provide an opportunity for any child age 1-18 to get a grab and go breakfast and/or lunch during the COVID-19 school closure.
*Meals can be picked up on the east side of the elementary school. If you bring your children up in a vehicle, this will be provided via drive thru service.
*If your children walk to the school, they can pick it up on the east side of elementary.
*If your child rides a bus, meals can be delivered by their bus driver. This includes Braman as well. Your bus driver will be getting a hold of you if you want meals.
*Meals will be served from 9:00am to 11:00am. Children will be given breakfast and lunch during this time.
*This program will be solely for the pick-up of meals. Meals will not be consumed on site.
*Per USDA regulations, children must be present in order for meals to be provided.
*Any child between the ages of 1 and 18 may pick up a meal.
*Meals will be served during scheduled school closures. March 23rd - April 3rd. This could change based on developments.
*Children who want a meal do not have to attend Newkirk Public Schools.
*All meals will exceed USDA nutritional requirements.
*There will be no published menus.
*There is no charge for this meal for any child.
No students or parents will be allowed in the buildings. We encourage families to continue to be proactive in reducing the risk of COVID-19. Do not congregate at the school site once meals have been distributed. Continue to wash your hands often, sneeze or cough into a tissue, and stay home if you are sick.